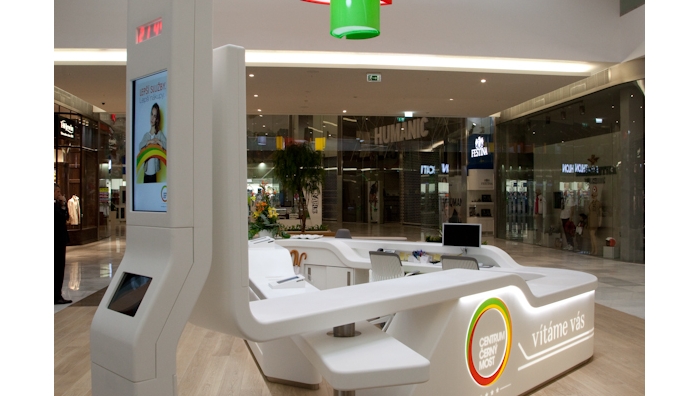 Černý Most Shopping Centre
Linstram has completed a comprehensive supply of special elements and furniture for the second stage of "Centrum Černý Most" shopping centre.
After two years of intensive construction, the new shopping centre called "Centrum Černý Most" has been officially opened. The extended and fully refurbished centre thus became the most modern commercial centre in the Czech Republic. It offers wonderful possibilities of shopping and having fun for everybody, as well as an enjoyable shopping experience in the convivial ambience of the unique interior and exterior. The building is elegant and playful at the same time and it hides a surface area of just under 82,000 m2  with 169 retail units and almost 3,200 parking places.

The project was conceived by leading architects of the British firm Benoy, which is famous for its ingenious and distinctive designs. Linstram was chosen as the supplier of special elements, receptions, rest areas and nonstandard food courts including complete furniture. At the west entrance to the centre you are welcomed by green relaxation zones and children's playground, by the roof entrance you will find a winter garden and a gentlemen's corner. In the extensive easy-access arcade you will feel well and comfortable in the elaborate lighting, easy navigation system and original interior elements. Whether you decide to visit one of the stores, rest in a relaxation zone or savour a good meal in a restaurant, you will be surrounded by first-class design with an emphasis on functionality.