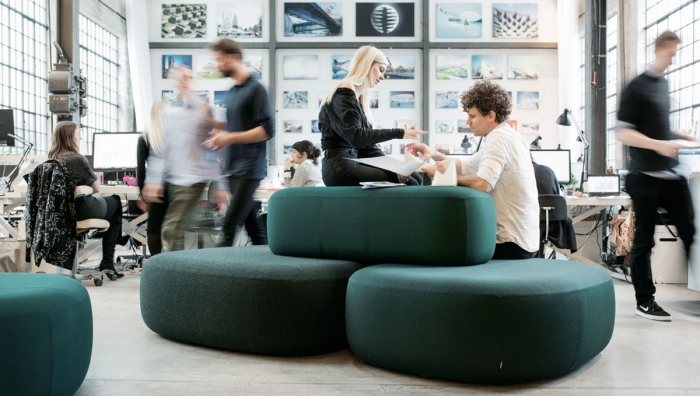 +Halle introduced the new product "Ø", meaning "island"
Ø is a human centred bench system designed to meet the flexible requirements of daily use in modern soft contract environments.
A series of small islands that work as individual modules or interlock to create larger formations. Ø is accessible from all sides, creating a space to work, rest, or hang out. It facilitates an area for a break in your daily routine and a place for relaxed conversation in an informal setting. Ø is developed from a functional and aesthetic perspective that strives to create a human space. A space that is flexible, warm and personal. A space that adds value by creating a natural interaction between furniture and life. Ø is the Danish word for island. 
The organic shapes and multiple options create warm, welcoming and human seating areas. Available in a wide range of textiles and leather types.
Ø is a good idea that suits its purpose. It bridges ideas from different worlds, and turns an abstract idea into something tangible. Additionally, it's a simple idea designed to last both aesthetically and quality-wise.
 Ø was designed by Kilo Design. Kilo is an idea-driven industrial design studio creating with a holistic approach and often exploring the potential of crossbreeding elements or attributes from different disciplines, and turns them into new functional and aesthetic hybrids.