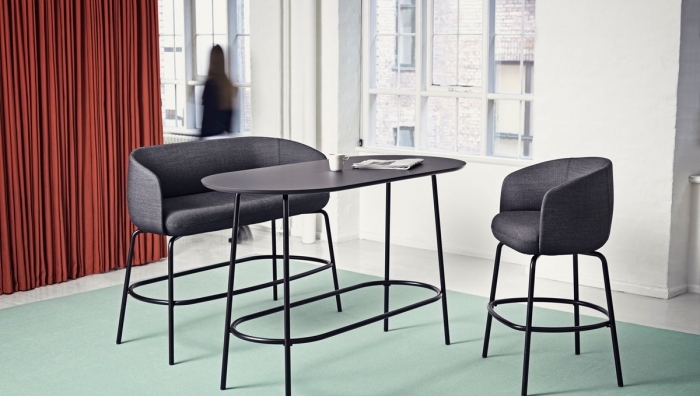 + Halle introduced Nest
The Nest launch took place during Stockholm Furniture and Light Fair 2016 at the beginning of February.
Furnished with the Nest series, the Greenhouse Café functioned as a natural meeting point for the fair's visitors and exhibitors.
The series provides an alternative to the traditional lounge area, by simply adding a level. The two optional heights offer an opportunity to create dynamic settings in any environment, without compromising the level of comfort. Nest is designed by the Stockholm based international design studio, Form Us With Love.
"Our ideas of different height layers led, as they often do, into deeper research. We analyzed the activities and behaviours of public spaces, and the upholstered furniture vs. bar stool seating scenario. Instead of putting the two characteristics next to one another, we merged them - creating a tall vertical Nest, The High Nest," says John Löfgren, Creative Director at Form Us With Love.
The different levels create a range of new possibilities. Previously, in order to create rooms within the room you were forced to use tall room dividers, high back sofas or the like. However, with Nest and the variation in heights, it can be done more subtle and with a minimal expression, keeping the space open and inviting without compromising visual or functional elements.
Nest is the product of the first collaboration between Form Us With Love and +Halle. A collection of high quality furniture consisting of chairs, sofas and tables in two different heights. Inspired by the high seat.
Form Us With Love was founded in 2005 and since its conception, the studio has burned with a passion for design and its democratic potential. Its belief is that we all have a right to meaningful design. The central intention is to evolve with the needs of each project, its place in the market and the ever-changing needs of real people.