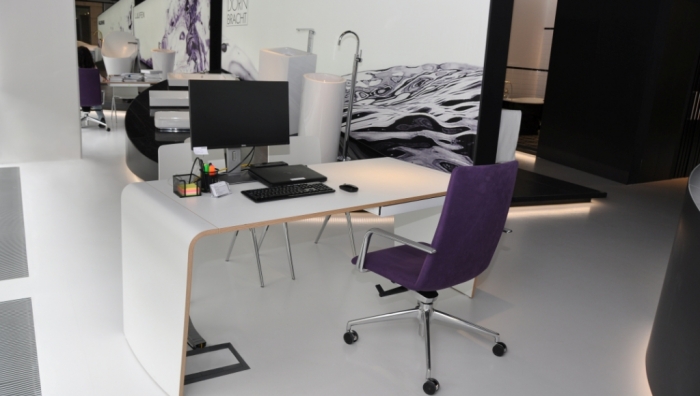 Brunner furniture in the Elite Bath's showroom
Linstram realized the supply of furniture for the showroom of Elite Bath's bathroom studio.
The supply contained A-Chair and Finasoft chairs, Hoc tables and Finalounge, the lounge seating furniture range by German manufacturing company Brunner. All products have been selected with respect to the architectural design made by DaM studio.
Pure design by DaM studio brought the showroom in Karlín district, Prague, a classification as one of the jewels of architecture. It was Richard Doležal, the founder and executive head of the architectonic studio, who made the design together with his colleagues. Architectural office DaM was founded in 1990. From its foundation, DaM has designed and realized many projects and constructions both in Switzerland and the Czech Republic. The most significant realizations in Prague include EURO Palace in Wenceslas Square, Filadelfie office building (BB Centrum), Main Point Karlín or tenement house with a gym in Petrské Square.
Elite Bath, a member of Siko group is a new, unique bathroom studio concept designed for the most demanding clients. For customers that do not like the usual standard of bathroom equipment and that have high demands mainly for aesthetics and design. For people that like to surround themselves with "pure beauty". The studio provides excellent and professional services related to furnishing of the bathroom of your dreams. Manufacturers of the bathroom equipment you can see in Elite Bath showroom belong to the leaders in the field.