Project Description
Certicon company has decided to locate its headquarters in Blox office building in Prague 6 - Dejvice. The Blox office building has been designed by DaM, renowned architectural studio. This studio has also been chosen by Certicon as a designer of their office interiors. They DaM architects have prepared the study of interior based on the space plan created by Linstram. They next phase of the project contained selection of office furniture, conference furniture and seating furniture including colours, surfaces and fabrics from our wide portfolio.
Our delivery also included AirMaster, a quality carpet from Desso company. Due to its unique features AirMaster helps to reduce the amount of fine dust in the breathing zone. RTS adjustable partitions have been used in conference rooms and informal zones. The office section contains mainly furniture from Steelcase company. The informal zone is equipped by seating furniture from Brunner. Based on the interior study created by DaM, some custom-made areas such as reception, kitchen and office of the management have been made. 
Architectural office DaM was founded in 1990 as a private Czech-Swiss architect's office by two partner architects – Richard Doležal Dipl. Arch. ETH/SIA and Ing. Arch. Petr Malinský. Currently the company has four more partners – architects: Petr Burian, Jiří Havrda, Jiří Hejda and Jan Holna. The company cooperates with a team of 30 people - architects and civil engineers mainly.  From its foundation, DaM has prepared and realized many projects and constructions both in Czech Republic and Switzerland. 
Data
Total office area

5,424 m²

Number of workplaces
437

Seating
Reply Air, Please, Plot

Principal desk system
Kalidro, Partito

Glass Partitions
RTS  280 lm
Pura single glazed 25 lm

Carpets
Desso AirMaster 4600 m²

Implementation
Prague 2015
Company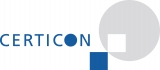 Large experience in the fields of medical and mission-critical applications and high-tech industrial applications enables Certicon to harness the best practices and solutions for the clients.