Project Description
The interiors of Oracle have been designed by IBA architecs.
Linstram has delivered the entire typified office furniture for the new office spaces of ORACLE located in the new Aviatica building in Jinonice district, Prague.
The office furniture has been made by Steelcase, the US company and the global leader in the field of office furniture. The new office spaces of Oracle have been furnished with  846 workstations containing Ology desks in the version enabling electric height adjustability to allow working activities both in sitting and standing position. Each workstation has been complemented by following tools providing greater comfort and privacy: screen, monitor arm for one or two monitors and electrification. Mobile drawer containers made by Dieffebi are useful whenever there is a need to store any personal printed documents.
Meeting rooms have been equipped with tailor-made FlipTop folding tables allowing sitting by all sides of the tables. Concerning the furniture in Project rooms, the users appreciate the multi-functional Cobi chairs with castors. Informal zones offer Crona chairs by Brunner in an attractive two-colour upholstery combination.
Linstram has also supplied the glass adjustable partitions for the entire office space of Oracle.
Data
Total office area
10,000 sqm
Number of workplaces
846
Number of meeting places

205
Principal desk system

Ology electric height adjustable desks
Seating


Please

Conference furniture

FlipTop, Touch Down, Cobi, i2i, Medias:cape, Crona
Implementation

Prague 2016-2017 
Company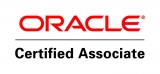 Oracle is the world's largest supplier for following fields: banking, retail, communications, financial services, public sector, etc. It is also the only supplier in the world that can provide customers with complete technology platform in which all layers are mutually integrated into a single system.