Project Description
Not only freshly ground Italian coffee, but also a pleasant place for handling e-mails, reading internet articles and learning news from Veolia group, these are the main benefits of Espressionista café by Veolia. The café is located in Florentinum administrative complex, right in the central part of the square called Piazza. It is an enjoyable place that presents Veolia group in a new way and offers more information about activities of the company.
Linstram company helped Veolia with design of the entire area. We managed to connect the café space with the area that was supposed to serve as a showroom and information centre of Veolia company. The complete supply of interior contained flooring, typified and custom-made furniture, seating and lighting.
Data
Total area

85 sq m

Capacity

20 seats + showroom

Seating

Divan, Moritz

Lighting

Luzifer Link S, I-Club

Implementation

Prague 2014
Company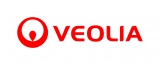 Veolia Voda has operated in the Czech Republic since 1996. Veolia Czech Republic provides innovative and sustainable solutions in water, energy and waste management. Veolia is a leading provider of services in the Czech water management market.
Over 1,150 municipalities in the Czech Republic entrusted the operation of water management infrastructure to Veolia Voda based on the operating.